Many people are unfamiliar with what actually takes place during a worship service in a chapel of The Church of Jesus Christ of Latter-day Saints. Research also shows that there are many people who feel that they are not welcomed inside an LDS chapel to worship with Latter-day Saints to be able to observe for themselves that Mormon worship is focused on the Lord Jesus Christ.
This is often the basis for misunderstandings among communities where Latter-day Saints live and leads many to believe that the close-knit ties of the Latter-day Saint community is both clannish and secretive. Part of this misconception may be caused by the differences between worship services in LDS chapels and temple worship. All are invited to attend services in LDS chapels, but only those members of The Church of Jesus Christ who are deemed worthy and hold a valid temple recommend are permitted to enter the sacred temple – the House of the Lord.
The infographic below is an excellent comparison of worship in an LDS chapel and temple worship.
Additional Resources:
You are invited to worship with a local LDS congregation
by Roy
Many different organizations, sects, and people from all parts of the world continuously praise The Church of Jesus Christ of Latter-day Saints (frequently misnamed the "Mormon Church") for its high standards when it comes to dealing with family relationships. Mormon women are doing a great job in raising their families as they work together with their husbands to create atmospheres of love, peace, and respect in their homes, carrying out the wonderful Plan of Salvation of God for His children. An old proverb says, "The north wind driveth away rain: so doth an angry countenance a backbiting tongue. It is better to dwell in the corner of the housetop, than with a brawling woman and in a wide house" (Proverbs 25:23–24).
Mormon women believe that some of the greatest blessings God has bestowed to His children are found in the home. They know that motherhood is the most noble status and act that any woman can achieve. It is in the home where the greatest lessons of life can be learned; it is also the best place to teach God's plan for us. In the Mormon Church, the home is often likened in sacredness to Mormon temples of God where the Spirit of the Lord can be strongly felt and manifested. With both the husband and the wife equally doing their responsibilities in their family, and their children helping the parents achieve their goals, anyone can say that indeed the home is where the most joy can be found on this earth. It is just like the temple of God; a piece of heaven on earth and a glimpse of what life will be like in heaven.
Mormon women also know that life here on earth is a big test where sometimes unpleasant things happen, even if somebody doesn't really deserve it. There seem to be a growing disintegration within the family in society. The family unit is being attacked. Satan wants us to believe the family is not nearly as important as a good career and earning lots of money to give a great financial life to your family. Even some Mormon women fall into this trap, but the truth is money does not give happiness. Once a family's basic needs are provided for, the strengthening of relationships should take far more precedence than earning an increasingly better living. Mormon doctrine teaches these principles, and Mormon women and men are called to accountability for these teachings. True happiness comes through obedience to the commandments found in the everlasting gospel of Jesus Christ.
The gospel of Jesus Christ is central to God's plan of salvation because it contains the authority, ordinances, and teachings necessary to our salvation. It is an essential element and should be the center of every Mormon family. The Church of Jesus Christ of Latter-day Saints has put so much emphasis on teaching the gospel of Jesus Christ in the home, because children learn life's lessons from their families. David O. McKay, a latter-day Mormon prophet, said, "No other success can compensate for failure in the home" (Quoted from J. E. McCullough, Home: The Savior of Civilization [1924], 42; Conference Report, Apr. 1935, 116).
Elder Douglas L. Callister, a Mormon General Authority, shared a story about how the husband and the family could at least give something back about the mother's efforts in their home:
Many years ago an associate of mine decided he would please his wife by sharing with her a specific compliment each night as he arrived home. One night he praised her cooking. A second night he thanked her for excellence in housekeeping. A third night he acknowledged her fine influence on the children. The fourth night, before he could speak, she said, "I know what you are doing. I thank you for it. But don't say any of those things. Just tell me you think I am beautiful."

She expressed an important need she had. Women ought to be praised for all the gifts they possess—including their attentiveness to their personal appearance—that so unselfishly add to the richness of the lives of others ("Our Refined Heavenly Home" by Elder Douglas L. Callister, June 2009, Ensign).
Mormon women sacrifice a great deal to be mothers in Zion. Some of the manage to fulfill their own dreams at the same time. How each woman manages this is a personal matter between her and her Heavenly Father. Still, there is no contribution a woman can make to the world which would exceed the importance of her influence on her family.
Additional Resources:
More about Mormon Women
Roy Patrick is currently working as a Call Center Agent in the Philippines. He served a full-time mission in San Francisco, CA. His family is one of the pioneers of the LDS Church in Panay Island, Philippines.
The Church of Jesus Christ of Latter-day Saints is the official name of the often misused title the "Mormon Church." The misnomer comes from a book which Latter-day Saints ("Mormons") regard as holy scripture: the Book of Mormon. While Latter-day Saints accept a few different books as scripture (including the Bible), the Book of Mormon sets it uniquely apart. The Book of Mormon is a record of some of the ancient inhabitants of the Americas who were led out of Jerusalem by the hand of the Lord. It contains His dealings with this people and records the instance of His appearance to them after His death and resurrection. The book is another testament, along with the Bible, that Jesus is the Christ. Its name comes from the man who abridged the book, and that is where the misnomer originates.
While there is nothing offensive to Latter-day Saints about being called "Mormon," replacing the Church's true name with "Mormon Church" takes away the focus of the Church on Jesus Christ. Faithful Latter-day Saints believe that Jesus is the Christ, the literal Son of God, and that He died for us. They strive to live their lives to emulate His.
The Mormon religion has been steadily growing since its organization on April 6, 1830. It was organized by a man named Joseph Smith, called to be a prophet in our day. Latter-day Saints believe that this church is the restored gospel of Jesus Christ, which is the same church which Jesus Christ organized when He was on the earth. Because of wickedness, the priesthood authority was lost along with many sacred truths, and a restoration was essential to bring the fulness of the gospel of Jesus Christ again to the earth.
Today, the "Mormon Church" has grown into a global religion. It now has more members outside of the United States than inside it and gains more members outside the United States each year than in it. Membership exceeds 14 million people in more than 100 countries around the world. The faith centers on Jesus Christ and on following His example of love and charity to all those around us, not just to others who are members of the Mormon faith.
The Church of Jesus Christ of Latter-day Saints has one of the largest humanitarian aid programs in the world, which serves all those who stand in need of help. Millions of people have been served in response to famine, war, flooding, earthquakes, tsunamis, and other natural disasters. Individuals and communities are helped without regard to race or religion, because we are all God's children. In addition to emergency response aid, The Church of Jesus Christ of Latter-day Saints has many programs which help communities become self-sufficient and take better care of their own.
One thing that sets Latter-day Saints apart from other Christians is their lifestyle. While many Christians live similar lifestyles to Latter-day Saints, few live so strict a code. This code, called the Word of Wisdom, is a health law which teaches faithful Latter-day Saints to take care of their physical, emotional, and spiritual health. Some restrictions outlined include the consumption of alcohol, coffee, tea, and tobacco, as well as any substance which is harmful to the body. Latter-day Saints are also commanded to get ample rest, to limit their consumption of meat, and to get regular exercise. Each person's adherence to this health code is personal, though the consumption of those things listed above will keep a person from being worthy to enter Mormon temples.
The Mormon religion is one of happiness, love, hope, and obedience. Those who live the religion faithfully find joy in their lives. This does not mean they have no trials or struggles, but they do have the forbearance and faith to deal with them better than if they had no knowledge of God. Latter-day Saints believe families can be together forever, as part of God's plan for us, which also brings them joy and perspective in their lives.
Additional Resources:
By Amy Choate-Nielsen
Deseret News
Published: Sunday, Jan. 15, 2012 7:00 p.m. MST
David Letterman knows how to get a laugh.Like most comics, he riffs on the day's news, deadpans the camera and revels in audacity."Oh, did you hear about this?" the host of CBS' Late Show with David Letterman asked his audience recently. "A campaign staffer on the Newt Gingrich campaign was fired because he was making negative comments about Mormons. I thought, now, wait a minute — isn't Newt in favor of multiple wives?"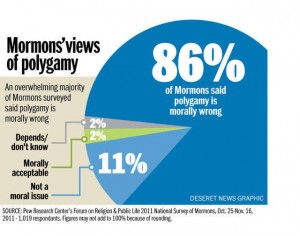 Laughter rumbled from the audience followed by applause. The polygamy punch line is a familiar one when it comes to poking fun at Mormons — as though Mormons and polygamy are synonymous in mainstream media. Ironically, the practice that's most linked to Mormons is a practice most Mormons oppose, according to a groundbreaking new study of Mormons in America released Thursday by the Pew Research Center's Forum on Religion and Public Life.
According to the study, members of The Church of Jesus Christ of Latter-day Saints unequivocally reject polygamy — only 2 percent said the practice is morally acceptable — evidence of a yawning gap in what Mormons believe and how they are perceived. Mormons' opinions are overwhelmingly conservative, the study shows, but in many ways, their views are also surprising — especially when it comes to opinions on moral issues, divorce, homosexuality and polygamy. Read more
Of all the numbers in the Pew Research Center's recently released survey of "Mormons in America," the highest, most overwhelming numbers are these: 98 percent of respondents said they believe in the Resurrection of Jesus Christ, and 97 percent say their church is a Christian religion.
This comes on the heels of earlier surveys indicating that 32 percent of non-LDS U.S. adults say the LDS Church is not a Christian religion, and an additional 17 percent are unsure of LDS Christianity. The theological and semantic reasons for this can be complex, but for the 1,019 self-identified Mormons who participated in the Pew survey, their theological position is clear: Mormons believe in Jesus Christ, and they consider themselves to be Christian.
"Certainly in Latter-day Saint theology is this idea that if you understand who you are, you understand that there's a purpose in life, you understand your connection to God, that certainly has an impact on how you live your life and what you do, but also how you feel about your life and what you are doing," said Michael Purdy of the LDS Church Public Affairs office. Read more
A recent The Pew Research Center's Forum on Religion and Public Life conducted an in-depth survey of Mormons in the United States. Mormon is a nickname sometimes used to describe members of The Church of Jesus Christ of Latter-day Saints. The fourth article in a series that appears in Deseret News is evaluating the results of this survey and providing context for the results.
Immigration is a controversial topic in the United States. The survey asked one question on this topic. They were asked which of two statements most closely matched their view, even if they didn't completely agree. They were asked whether immigrants strengthen or burden the nation. No distinction was made between legal and illegal immigration, leaving those polled to decide for themselves what the question meant.
In the general U.S. population, 45 percent of Americans feel that immigrants strengthen the country, while 44 percent burden it. 12 percent feel that neither or both are true or they have no opinion on the subject. Mormon views closely mirror these statistics. 45 percent of Mormons also believe immigrants strengthen the nation, although a smaller number, 41 percent, consider them a burden on society. The number of Mormons who accept both or neither or who have no opinion is higher, at 14 percent.
These numbers put them at odds with evangelical Christians, one of the few political areas in which they disagree. Within the white evangelical population, 59 percent believe immigrants are a burden, and 27 percent believe they strengthen the country. Like Mormons, 14 percent answered both, neither, or no opinion.
The statistics for Mormons shows a strong divide based on age, income, and education, as well as on religious commitment. Only 36 percent of highly committed Mormons see immigrants as a burden, while 50 percent of those who are less committed see them as a burden. This largely correlates with economic status. 84 percent of Mormons who are highly committed to their religion are college graduates. (The church strongly encourages Read more
The Church of Jesus Christ of Latter-day Saints (frequently misnamed the "Mormon Church") teaches that Jesus Christ and God are two distinct beings (see Mormon Godhead). This teaching is unique among Christian denominations, and causes the story of Abraham and Isaac to become much more powerful, because it symbolizes God sacrificing His only begotten Son, rather than God sacrificing Himself.
When Adam and Eve fell in the Garden of Eden, they became imperfect, mortal beings, separated from God. They were already separated from God physically, and because they were now imperfect, when they died, they would be permanently separated from Him spiritually as well. Only a perfect being who had power over death could intervene on their behalf and ours. This was God's plan from before the foundation of the world on which we now live.
Members of The Church of Jesus Christ of Latter-day Saints (sometimes called Mormons or Latter-day Saints), believe that Jesus Christ volunteered to be the one to come to earth on our behalf and pay an eternal price for our redemption. He became our Savior because he conquered death and used that power for our benefit. He saves us from physical death by the power of the Resurrection. He gained this power when He willingly gave His life for us on the cross, then took it up again three days later. Mormon doctrine teaches that this gift extends to all who have ever or will ever live upon the earth.
As far as our spiritual death is concerned, which occurs because we have sinned and are thus unworthy to re-enter God's presence, Christ became our Redeemer. Because He was perfect, He could take upon Himself the sins of all mortality. He suffered for those sins in our behalf. He has redeemed us with His own blood. However, we can only qualify for this blessing upon the conditions that He has set. Faith on His name is absolutely required for us to be spiritually saved.  In addition, He has given us commandments to follow, and when we break those commandments, He has given us the process of repentance and forgiveness. When we follow His conditions with our whole heart, we can be cleansed from our sins and can be made perfect again through Him. Mormons believe this is an ongoing process. None of us will attain perfection in this life. We must constantly approach our Savior and Redeemer with a broken heart and a contrite spirit, doing our best to right the wrongs we have made and the striving to not make the same mistakes in the future.
Mormon prophets, including Joseph Smith and Brigham Young, have taught that the Atonement of Christ began in the Garden of Gethsemane. Here Christ began to take upon Himself the sins and infirmities of the world. Even He was astonished at the suffering which overtook Him when this process began. He had to bear this burden alone. He suffered the consequences of our sins, but He also suffered every sickness and pain possible in this life. He felt all the consequences of mortality, even those which do not result from sin. He did this in order to be able to succor us and comfort us. There is no trial we can be called upon to bear which He does not understand.
After the Garden of Gethsemane, Christ was crucified. Here, He completely paid the price for our sins.  There was a point, when He hung in agony on the cross, when His Father withdrew from Him.  Thus, Christ even knows how we feel, when we distance ourselves from Him, and when we sin to the point that we cannot feel His love and support.   When the ultimate price was paid, he said, "It is finished," and He willingly gave His life. He was the Son of God. No one could take His life from Him. He knew when His Atonement was done, and completed it by giving His life for us. This was so He could gain victory over death and give that gift to each of us.
The "Mormon Church" has a unique understanding of the Atonement of Jesus Christ. Because its view of the Atonement is so much broader than most other denominations', Mormons do not use the symbol of the cross in their worship. They understand that the Atonement encompassed much more than just the event of Christ's death on the cross. They also recognize that the joy of the Atonement was found in the empty tomb, after Christ was resurrected, not in His death. Mormons believe in every sense that Christ lives. He overcame the grave so that we might someday also be able to do just that.
Additional Resources:
The Church of Jesus Christ of Latter-day Saints (inadvertently referred to by friends of other faiths as the "Mormon" Church) was organized on April 6, 1830, in New York, U.S.A., by a prophet named Joseph Smith. Joseph was a young man of 14 when he prayed to know which church of all the many denominations was true. He received a vision of God the Father and His Son, Jesus Christ. They told Joseph that none of the churches retained the fulness of the gospel which Christ established on the earth during His life. Over the next ten years, Joseph received more visions and instruction to prepare him to restore the fulness of the gospel of Jesus Christ.
Joseph and other Mormons, as they soon became called (after a book of scripture which Joseph translated from ancient records, called the Book of Mormon), were heavily persecuted. Throughout Mormon history, they were driven from place to place, often violently. They were thrown out of Missouri by Governor Boggs' famous Extermination Order. They were later kicked out of Kirtland, Ohio, as well. They finally chose a swamp in Illinois to settle in. After much work in draining the swamp, with many Saints suffering malaria and other diseases, Nauvoo, Illinois, emerged as a gem out the formerly inhospitable landscape. Here the Saints built what they thought would be a permanent home. However, tensions continued to rise, and on June 27, 1844, Joseph Smith, Jr., and his brother, Hyrum Smith, were martyred at Carthage Jail.
Joseph had been in and out of jail on false charges myriad times, but this time he knew he was going "as a lamb to the slaughter." He faced his death bravely, and he and Hyrum were both greatly mourned. Brigham Young became the next prophet and president of the Mormon Church. The direction of Mormon history was still governed by Jesus Christ through his prophet, and Brigham Young, following revelations which Joseph had been given before his death, led the Saints out of Illinois and out of the United States, to what later became the Utah Territory. They fled civilization and a beautiful home to seek refuge in a bleak, barren wasteland of desert so that they could be free to practice their religion. Persecution continued to follow them, though, and in some ways, that persecution still exists today. However, the Saints were able to build the Salt Lake Temple, as well as two other temples in Utah. They lived up to the high standards of their religion and were blessed for it. The Mormon Church continued to grow, and missionaries continued to bring people to Utah from all over the world. Utah began to explode with growth, and Brigham Young sent people all over the Great Basin to colonize the area. Finally, the Church had grown so much in Utah, that Church leaders told new converts to stay in their home states and home countries and to help build up the Church where they were. In consequence, Mormonism is now a worldwide religion, with about 14 million members and more members outside of the United States than in.
The Mormon Church has developed amazing welfare and humanitarian aid programs, it continues to build temples all over the world, and its missionary program is unsurpassed. The success of The Church of Jesus Christ of Latter-day Saints lies in its doctrine and foundation on principles which were given (and continue to be given) directly to modern-day prophets who have the authority of the priesthood directly from Jesus Christ.
For more information on Mormon history, visit historyofmormonism.com
A Word about Polygamy
The media has done a lot lately about polygamy and the Mormon Church. This is not surprising, since Warren Jeffs, leader of the Fundamentalist Church of Jesus Christ of Latter Day Saints (FLDS) has been arrested for bigamy. In addition, two popular TV shows, "Big Love" on HBO and "Sister Wives" on TLC, have brought the issue to the front.
The fact is, however, none of these things is associated with The Church of Jesus Christ of Latter-day Saints. The FLDS broke off from the Mormon Church more than 100 years ago, when leaders of the Mormon Church were instructed, by God, to discontinue the practice of polygamy. After this declaration, the Church stated it would excommunicate any members who continued to perform new polygamous marriages. "Big Love" claims to be about Mormons, but no faithful Mormons today are involved in the practice of polygamy. Members of the TV show "Sister Wives" are part of a sect that is also not a part of the Mormon Church. It is interesting to note that those who do continue the practice of polygamy are small and reclusive. They separate themselves from mainstream society. Faithful, practicing Mormons, however, are everywhere and are a large part of society today.
The practice of polygamy in Mormon history began with the Mormon prophet Joseph Smith. He was commanded by God to practice polygamy and to give the principle to the members of the Church. Joseph and other leaders struggled mightily with this principle. Not a single one of them wanted to live it. They were commanded by God, however, so those who were called (which was a very small percentage of faithful members of the Church—the commandment was never given generally to the members) agreed to live this law. Some members of the Church actually became disaffected and left the Church over the practice of polygamy.
Though Joseph Smith did have more than one wife, his were mostly spiritual. The understanding was that they would be sealed to him in heaven, but he only had children with his first wife, Emma Smith. Brigham Young and other Church leaders did have children by more than one wife, and this practice continued for several decades.  Persecution was great, and the Saints were stripped of many of their rights. Some of them had to go into hiding. After several years of this, the Lord revealed to then-prophet Wilford Woodruff that if the Saints continued to practice, the government would invade their temples and they would no longer be able to worship how they chose. The order to stop practicing polygamy did not come from President Woodruff because of worldly pressure. God revealed to President Woodruff when the time came that He no longer required it of His people.
Some members defied this revelation and believed that President Woodruff had succumbed to worldly pressure. They left the Church and began to practice polygamy on their own. From the time they chose to not follow the prophet any more, they cut themselves off from the Church.
President Gordon B. Hinckley, fifteenth president of the Mormon Church, made the following statement at a General Conference of the Church in October of 1998:
"I wish to state categorically that this Church has nothing whatever to do with those practicing polygamy. They are not members of this Church. Most of them have never been members. They are in violation of the civil law. They know they are in violation of the law. They are subject to its penalties. The Church, of course, has no jurisdiction whatever in this matter.
"If any of our members are found to be practicing plural marriage, they are excommunicated, the most serious penalty the Church can impose. Not only are those so involved in direct violation of the civil law, they are in violation of the law of this Church. An article of our faith is binding upon us. It states, 'We believe in being subject to kings, presidents, rulers, and magistrates, in obeying, honoring, and sustaining the law' (Articles of Faith 1:12). One cannot obey the law and disobey the law at the same time.
"There is no such thing as a 'Mormon Fundamentalist.' It is a contradiction to use the two words together."
For more information on Mormon polygamy, see mormon-polygamy.org.
As part of the Mormon Church's welfare program, their humanitarian aid program is internationally recognized. Over the past 25 years, The Church of Jesus Christ of Latter-day Saints (as it is officially known), has helped in 201 major disaster relief efforts, including the following: Haitian earthquake, 2010; Chilean earthquake, 2010; Pakistani flood, 2010; Samoan tsunami, 2009; Filipino typhoon, 2009; Indonesian earthquake, 2009; Ethiopian famine, 2008; and the Peruvian earthquake, 2007–2009.
Since 1985, the Mormon Church has donated $1.3 billion in humanitarian assistance efforts. These efforts are for more than natural disasters. They also include programs which strengthen the self-reliance of individuals, families, and communities. These programs are made possible by hundreds of full-time volunteers with skills and experience in such diverse areas as education, agriculture, social work, business, and medicine. More than 178 countries and territories have benefited from the service of relief or improvement efforts. Food (63,377 tons), medical supplies (14,345 tons), and clothing (93,196 tons) have all been donated, as well as 11.1 million hygiene, newborn, and school kits. These are truly staggering numbers. In fact, the Mormon Church's humanitarian aid program is so well organized that it is often one of the first groups allowed in to help in natural disasters.
Some of the other programs the Mormon humanitarian aid effort includes are: clean water, neonatal resuscitation training, vision care, wheelchairs, food production, and immunizations.
The clean water program helps communities with no access to clean water build wells or other water systems to ensure they all have clean drinking water.
The neonatal resuscitation program trains individuals in countries with limited medical resources to help newborns revive. Since 2002, more than 193,000 health care workers have been trained in these life-saving techniques.
The vision care program has helped more than 550,000 people worldwide get vision treatment since 2003. The Church has provided training, equipment, and supplies to assist local eye care professionals and programs.
The wheelchair program provides wheelchairs for rough terrain, hospital wheelchairs, crutches, walkers, and canes. Since 2002, more than 415,000 people have received one of these devices.
The food production program provides training and tools for home food production, food storage, nutrition training, and preparation techniques to help families become more self-reliant. Since 2002, nearly 40,000 people have been helped through this program.
Through the vaccination program, the Mormon Church has contributed financially to, and 59,000 of its members have volunteered in, 35 countries since 2003 for a combined effort with other worldwide programs of a 92 percent reduction in measles deaths in Africa and a 78 percent reduction of measles worldwide. An estimated 4.3 million lives have been saved.
The Church of Jesus Christ of Latter-day Saints continues to contribute on an international level to humanitarian aid efforts because Mormon doctrine teaches that each person is a child of God and has divine worth and potential.
The principle of charity discussed in Matthew 25:35–36 tells us that we should clothe the naked, feed the hungry, and visit the sick and those in prison is held close to the heart of Mormon doctrine. The Church of Jesus Christ of Latter-day Saints (commonly called the Mormon Church), has an outstanding welfare program to help its members, and often those who have no affiliation with the Church at all. The underlying principle is that people should be helped to help themselves. Idleness is a sin, and work is an eternal principle of Mormon doctrine. Therefore, handouts are almost as sinful as not giving anything at all because that practice is not, in fact, truly helping the individual. On the other hand, Mormon doctrine teaches that we are not to judge those who stand in need, but should give freely (Mosiah 4). Also, each person should work hard to provide for him- or herself.
Mormon doctrine teaches that the responsibility for an individual's temporal and spiritually welfare lies principally upon the individually, secondly upon the family, and lastly upon the Church. If a family is doing all they can and are still failing to provide the necessary help, the bishop's counsel and guidance is sought. To assist bishops in meeting the needs of those in their congregations, The Mormon Church has established storehouses, projects, thrift stores, employment centers, and family services offices. These are run largely by the donated time, talents, and skills of other Church members.
The following statistics were released by the Mormon Church in 2010 and include just a few of the elements which comprise the whole welfare effort:
Days of labor donated to Church welfare facilities: 777,381
Employment an dtraining placements: 168,713
Total number of:

Storehouses 143
Storage and distribution facilities 36
Employment resource centers 326
Deseret Industries thrift stores 43
LDS Family Services offices 79
Welfare Square is the main center of the Mormon Church's welfare program. "Since its humble beginnings in the midst of the Great Depression, Welfare Square has emerged as a powerful example of what The Church of Jesus Christ of Latter- day Saints does throughout the world to care for the poor, foster self-reliance, and provide meaningful opportunities for work and service. Welfare Square is a modern facility composed of a 178-foot-tall grain elevator, a large storehouse, a bakery, a cannery, a milk processing operation, a thrift store, and an employment center—all designed to help people help themselves." Mormons are invited to donate their labor to welfare square, where the Church produces vast quanitites of food at minimal cost.
In addition to donating time and labor, Mormons are invited to fast the first Sunday of every month, which means they refrain from eating or drinking for two consecutive meals. They are then encouraged to donate what money they would have spent on these meals in the form of fast offerings to the bishop of their ward, or congregation. These funds are then used to help members of that congregation. If there are no members in need, the bishop sends excess funds to church headquarters, where they are redistributed as necessary.
The Church of Jesus Christ of Latter-day Saints has been internationally recognized for its immense humanitarian aid efforts as well, which fall under the umbrella of the welfare program.